What Are They, and How Do They Affect the Classroom?
Welcome to our summer book study!
We really hope that you will join in and link up with us as we share our take on this great professional resource!
Let's get started!
Chapter 1 is all about what mindsets are and how they make an impact in the classroom. I have often thought about intrinsic and extrinsic motivation in the classroom, but this books took me to a different level describing the two different mindsets,
growth
and
fixed
.
The belief system that asserts that intelligence is malleable and can be developed is called
growth
mindset
. Interestingly, 100% of kindergartners entering school have a
growth mindset
. This number drops significantly over a student's first few years, with the notable drop from 82% to 58%, between second and third grade! Kids come to school believing that they can and will learn and they begin soaking up everything that we expose them to. But then what happens?
Students with a
gr
owth mindset
believe that they can learn just about anything. Even though challenging, with effort and perseverance they can succeed. The focus of this mindset is on learning, not looking smart.
However, students with a
fixed mindset
believe that
intelligence is something that you are born with
and that the level of intelligence cannot be changed. For students who struggle or don't think that they are smart, it becomes a self-fulfilling prophecy. They often give up and do not put forth much effort. For those who view themselves as "smart," they can become focused on "looking smart" at all costs and avoid taking risks where they feel they may not succeed. These are the kiddos who seem to coast through school without putting forth much effort, but are praised for their good grades. They are high achievers who blame outside influences when they "fail" at a task.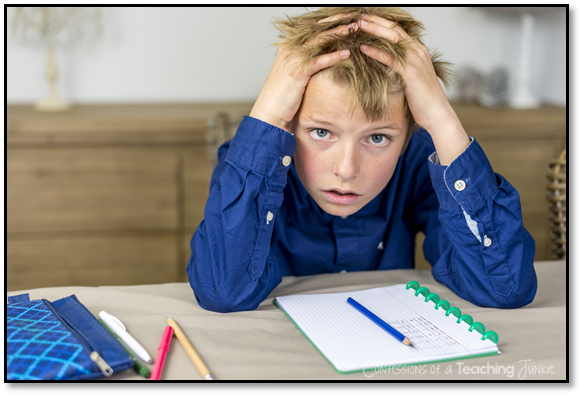 A child's mindset directly affects how he or she faces academic challenges.
What does this mean in the classroom?
According to Malcom Gladwell, "It turns out that summer vacation is a massive disadvantage for poorer kids. Richer kids get a lot of help over the summer. Their homes are filled with books and things that advance their knowledge; they go to camp and have all these other activities. But a poorer family can't do that. To improve that, we as a society would have to provide it in the first place. During the school year, poor kids actually outlearn richer kids. Then they stall over the summer."
Our society has become one that values pace. The faster the better. But we need to really think about the fact that it is not about how fast students master learning. It's about the persistence and effort they put forth. Personally, I think that is what the common core standards are aiming for; depth and perseverance rather than rote and speed.
The good news? Mindset can be shifted! Recent brain research negates the notion that intelligence is fixed from birth. Neuroplasticity is the ability of the brain to adapt and "rewire" itself throughout our entire lives.
We as educators, need to begin as early as possible to instill a

growth mindset

in our students so that they will continue to believe that the can and will succeed. Talk to your students about brain research and

teach

them that their intelligence is not predetermined.

Teach

them that their effort and persistence are what will enable them to succeed. Believe in them. Encourage them. And most importantly, make sure that you

embrace a

growth mindset

in your classroom

.
Click on the image below to download a PDF version of the chapter 1 summary. (I also included the Perseverance and Keep Going signs.) Then share you views about the book on your blog and link up with us.