Happy Sunday!
Pamela and I are teaming up today to provide you with some awesome Community Building activities and resources for back to school. Grab a cool one, sit back, and be ready for some inspiration.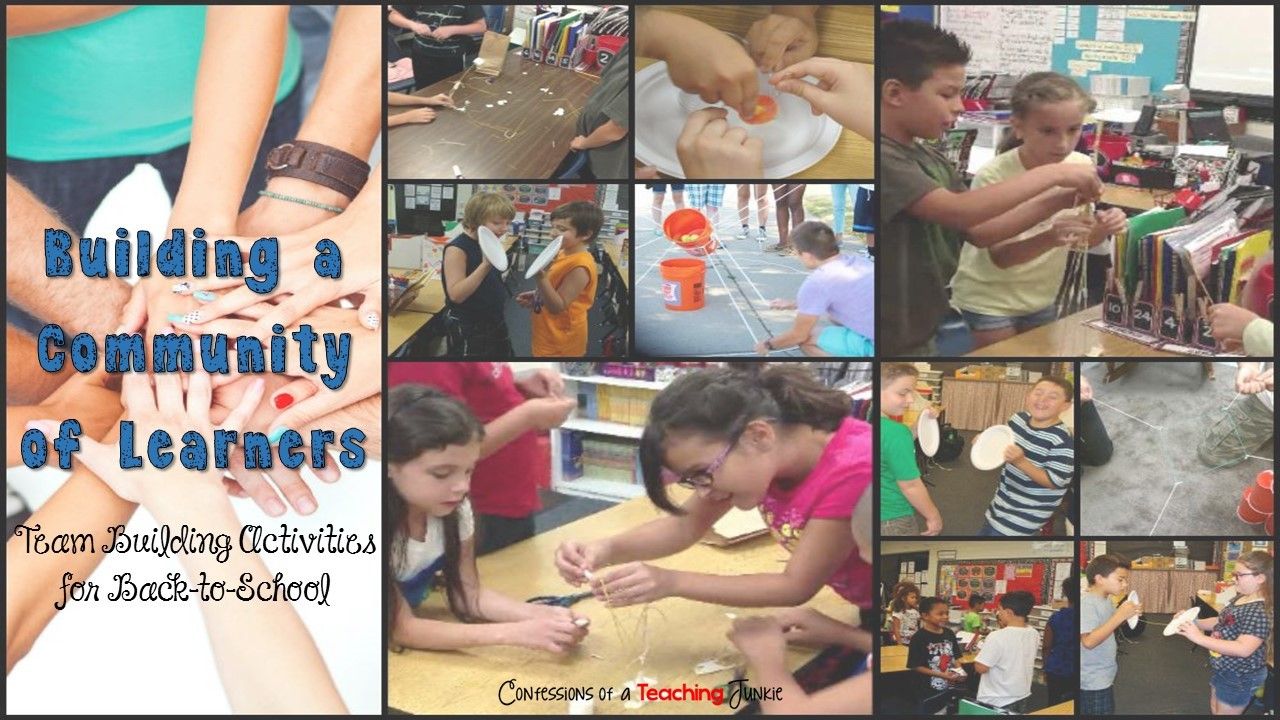 Building a classroom community is SO important! Students have to learn very early on that they will need to work together and depend on their classmates in order to be successful at school.
But how do you instill them with that sense of community?
Filling the first few days of school with team building activities has worked really well for me in establishing a culture of cooperation and teamwork.
Some of my favorites (in no particular order) are: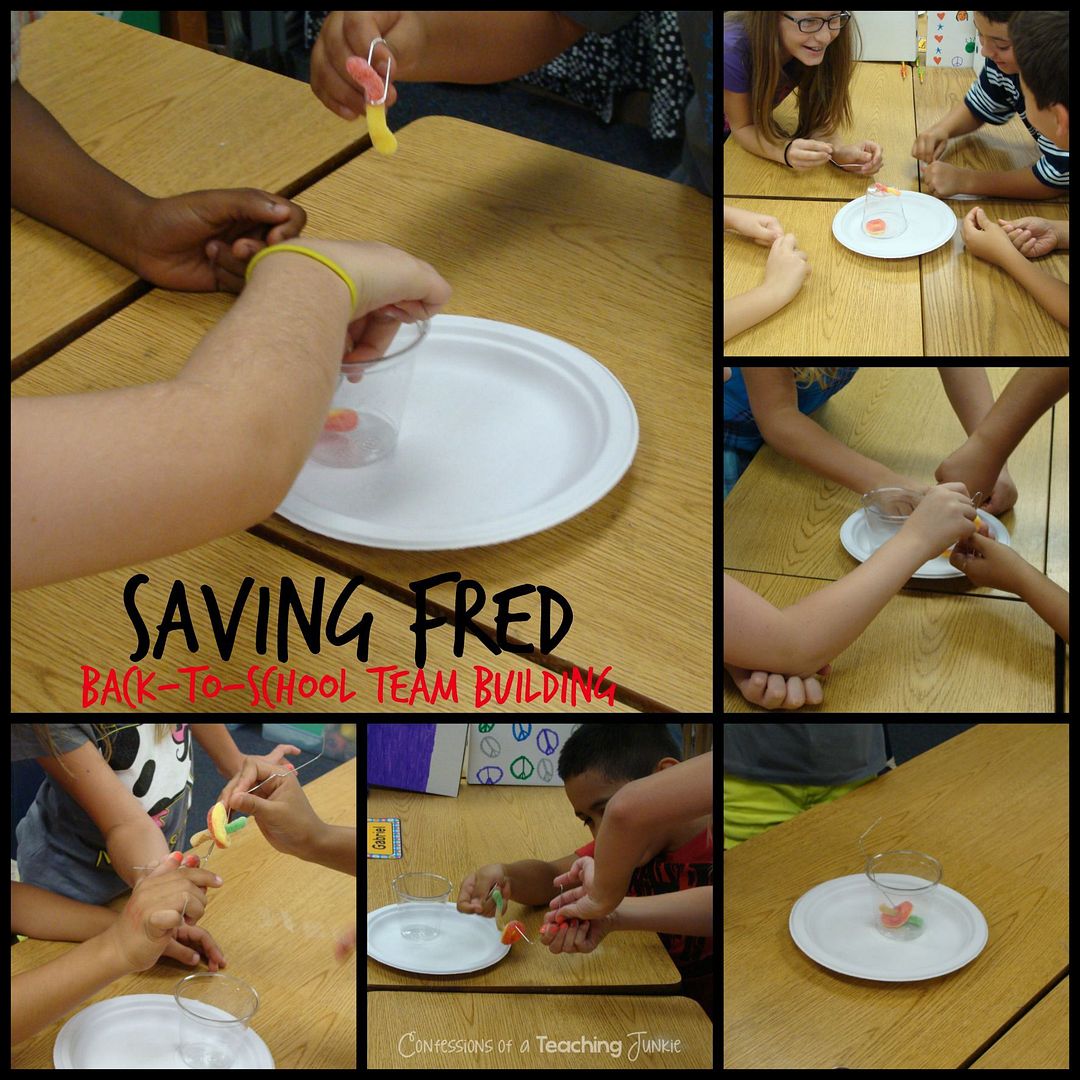 For each group of 4 students you will need:
1 gummy candy life preserver
This is the background for the activity.
Poor Fred! He was sailing along on a boat (your plastic cup) when a strong wind blew it upside-down. Fred (your candy worm) ended up on top of the upside-down boat. Unfortunately for Fred, his life preserver (your candy life preserver) is still trapped under the boat. Your job is to place the life preserver firmly around Fred's body, but you must obey three rules:
1. Fred may not fall into the "sea" (onto the table) more than one time; if he does, Fred "drowns."
2. You may not injure him in any way.
3. You may use only the four paper clips to move Fred, the boat, and the life preserver. You may not touch anything except the paper clips.
The students must work together to accomplish the task.
It is also important to "debrief" after the activity and discuss the strategies that different teams used that worked and didn't work.
After the activity let the kids eat the extra worms and candy rings.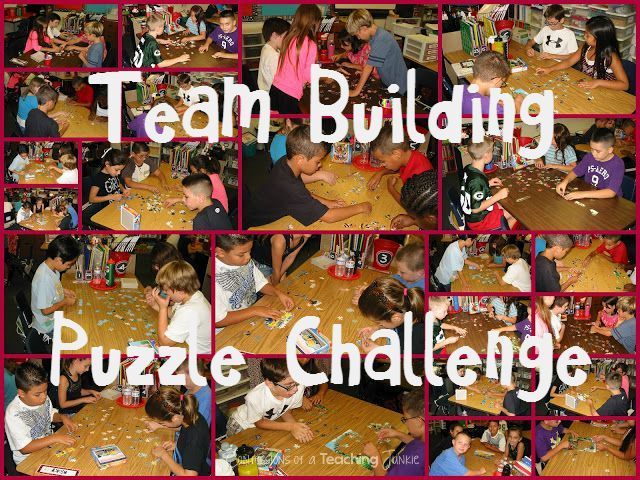 For this one I got 100 piece jigsaw puzzles from the dollar store. Put the kids in table groups or groups of 4. The challenge is to be the first team to complete their puzzle. I give a small prize for the team that finishes first.
Again, "debrief" after the activity and discuss the strategies that different teams used that worked and didn't work.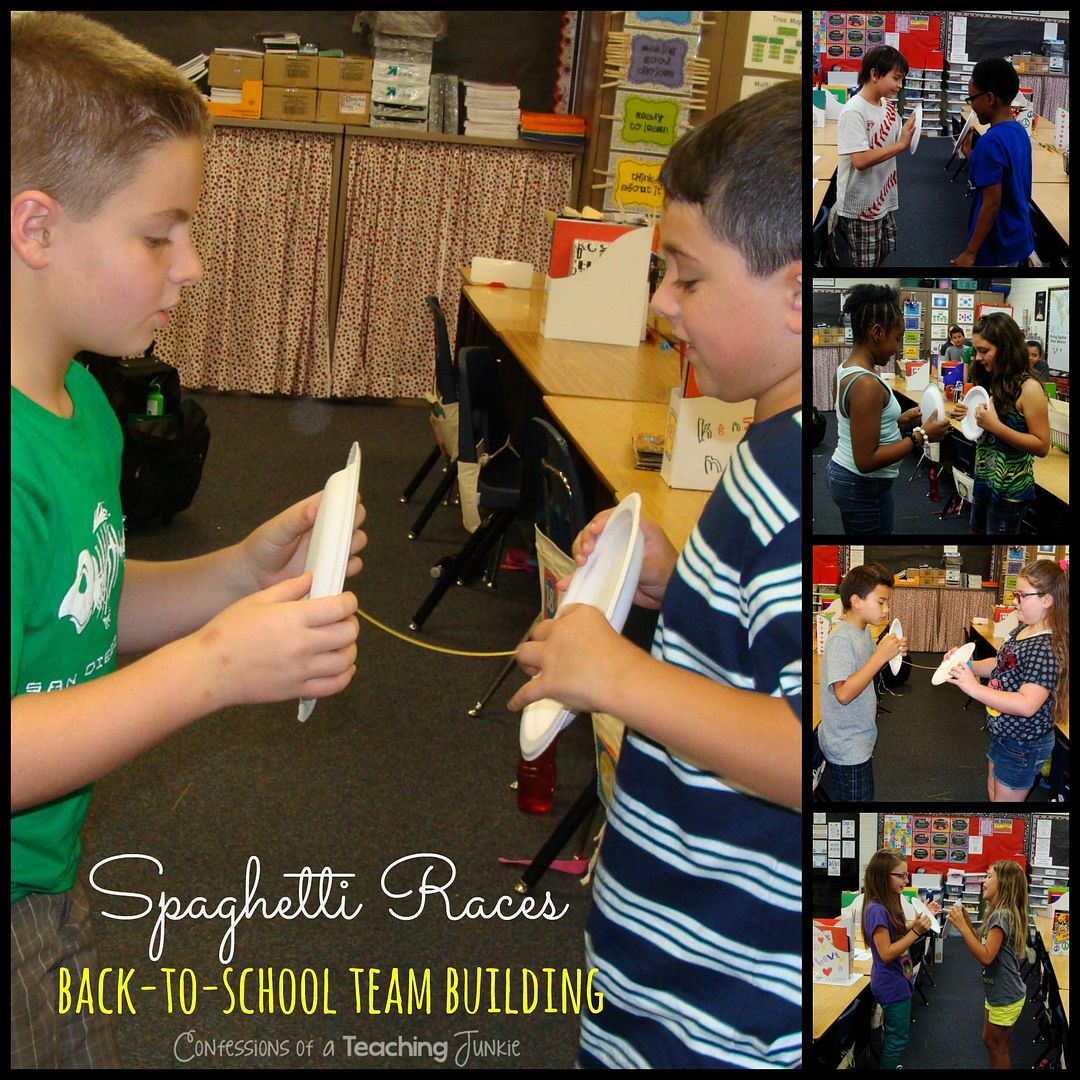 The object is to keep the stick of spaghetti between the two plates and make your way down the aisle without breaking the spaghetti. If it breaks, you have to go back to the
start
and begin again.
I used Chinet plates and generic spaghetti, but no tape.
It was WAY harder that it looked!
Probably one of my favorites has been this one.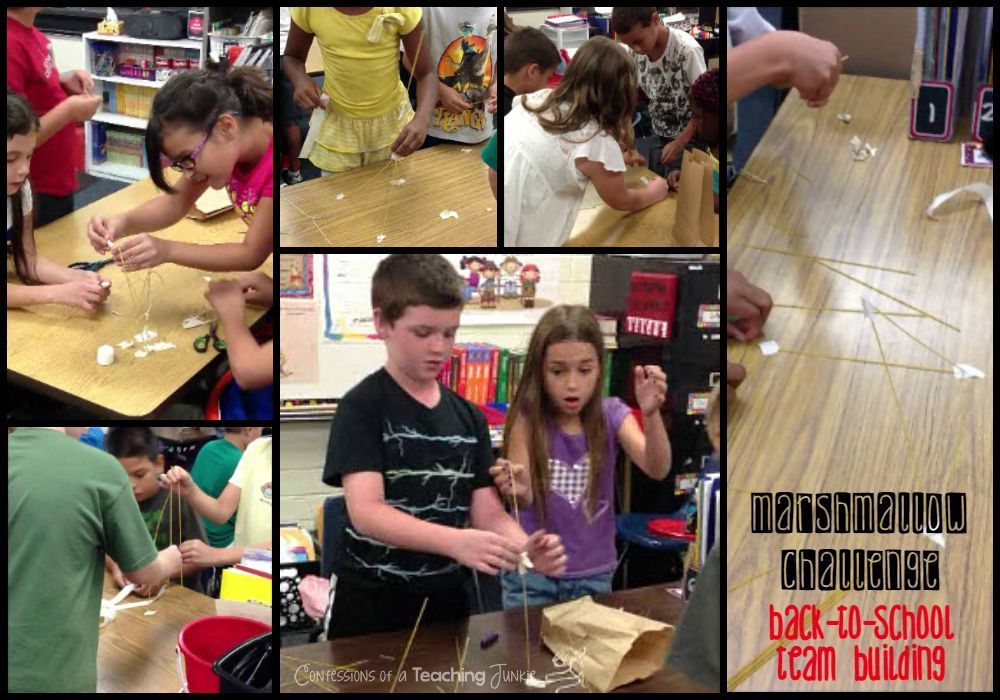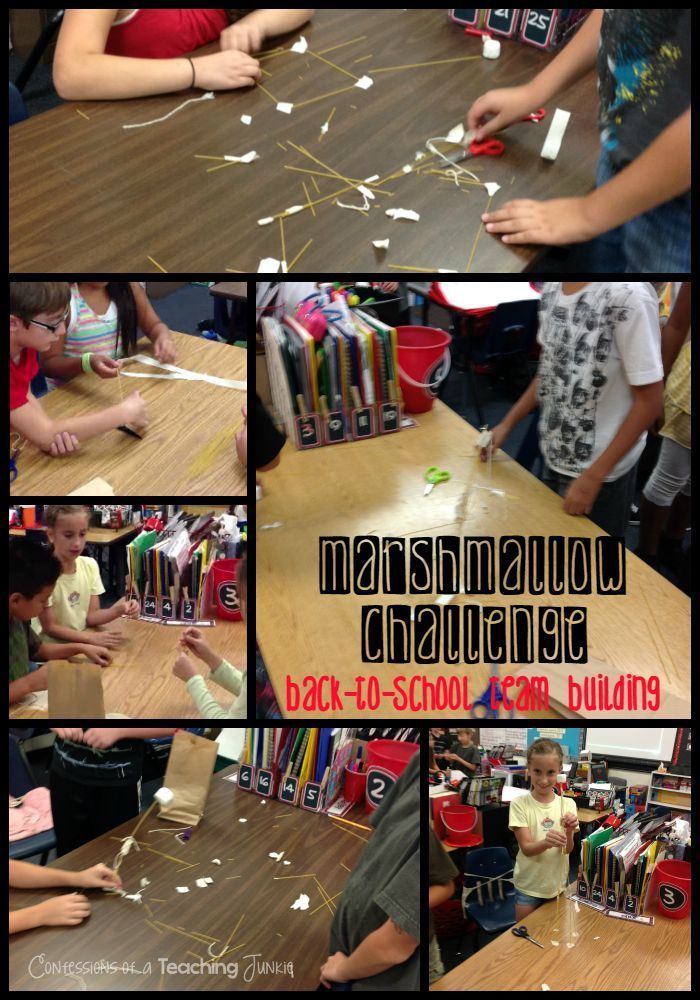 For this activity, groups have 20 minutes to build the tallest freestanding tower using only the materials provided: 20 sticks of spaghetti, 1 yard of masking tape, 1 yard of string and 1 marshmallow.
They do not have to use all of the materials, but nothing extra can be added.
The tower must stand by itself and the marshmallow must be at the top of the tower.
Don't forget to "debrief" after the activity and discuss the strategies that different teams used that worked and didn't work. This is an important part of learning how to (and how NOT to) work together.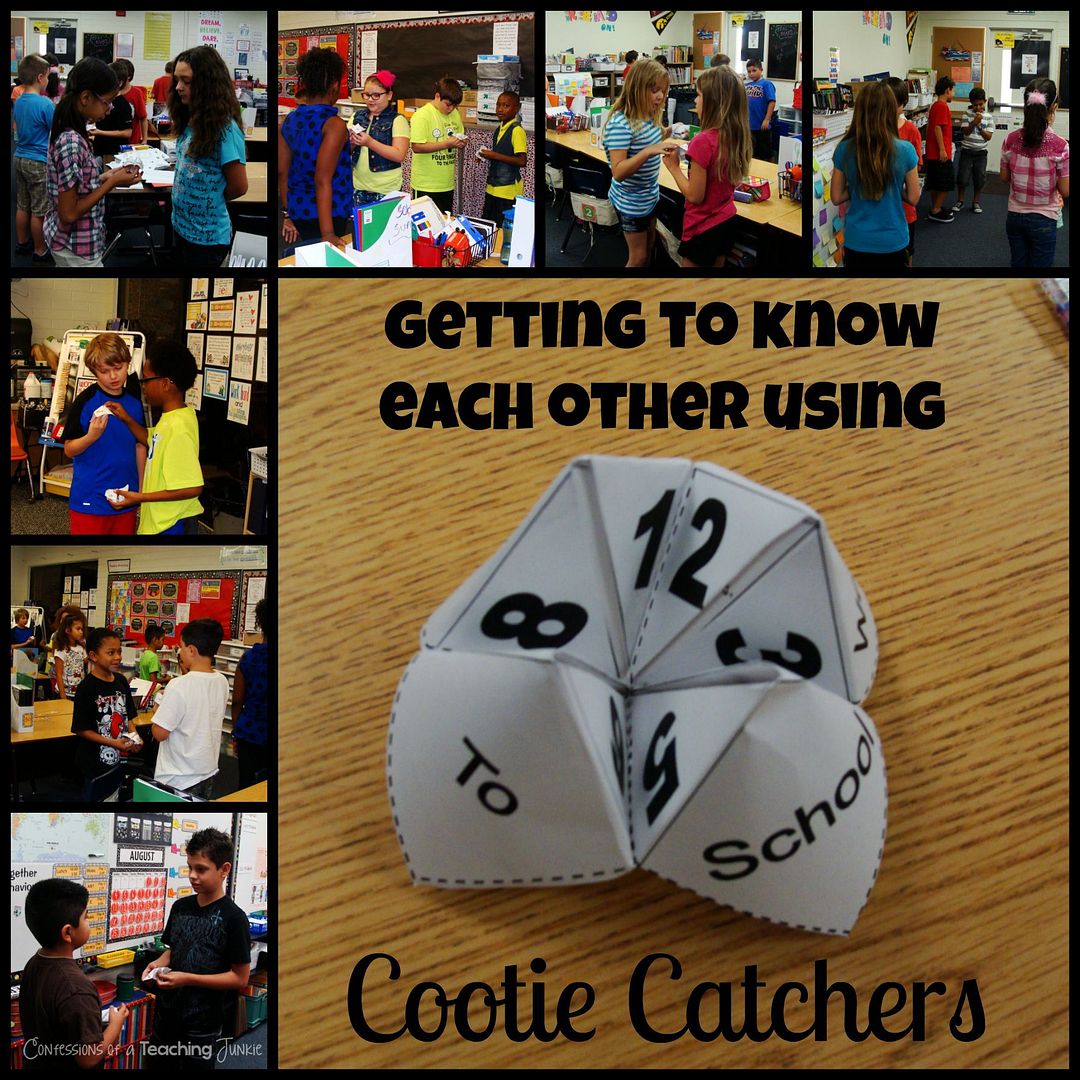 Another fun getting-to-know-you activity is this fun cootie catcher activity from
T

eacher's Clubhouse

.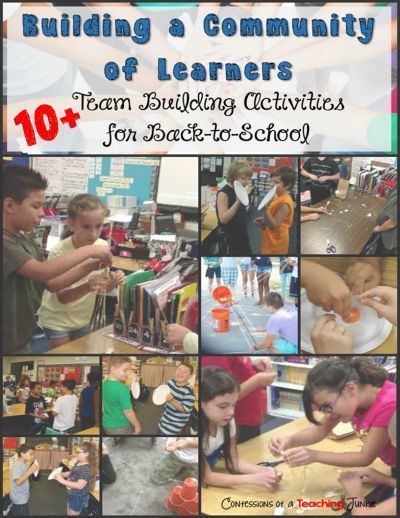 We would love to hear about some of
your
favorite team building activities too! Please share!
Wow, I loved reading all of Teresa's awesome activities!
Here are a few more ideas, starting with three picture books that I've used with big kids as we start the year. I love how they open the door to discussions about what elements go into creating a purposeful, supportive community... perfect for Back to School!


Roxaboxen
Roxaboxen
(Alice McLerran, author, Barbara Cooney, illustrator) is a sweetly nostalgic tale that celebrates creativity, imagination, and community. Kids like knowing that Alice McLerran based this story on her own mother's childhood memories from the early 1900s; see the picture below about the real-world setting of this wonderful book! Readers will likely recognize the familiar folk art style of illustrator Barbara Cooney, whose lengthy list of books includes many awards, including two Caldecott Medals (for
Chanticleer and the Fox
, 1959, and
Ox-Cart Man
, 1980), and the National Book Award for her beloved
Miss Rumphius
(1983).
Activities to accompany Roxaboxen:
*
World-building Makerspace
- Set up a corner with ingredients to build an imaginary world. Big kids enjoy imaginary play as much as their younger counterparts do! Rocks, sticks, blocks, fabric, string, tent frames... you can go as small (a tub in a learning center) to as big (a corner of your classroom) as you like.
*
Extend the World-Building Experiences
- Establish another center in which students can write about the worlds they've created. Have instructions and rubrics on hand to guide the activity, and provide all of the materials needed to produce these relevant pieces. You could leave the genre wide open, or choose it based on what you are working on in class. Consider compiling the finished works into a classroom book - it's sure to be a student favorite!
*
Family Memories Writing Project
- This book introduces the sometimes new-to-children idea that their parents and grandparents have a wealth of information to share from their own experiences! I've had my students interview their elders and use their findings to create the most fabulous personal narratives! (I've learned that students find it easier to conduct these interviews when I provide them with a template. One good way to introduce the activity is to discuss as a class what kinds of questions might result in the most interesting stories.)


The Invisible Boy
If you are looking for an engaging picture book to springboard talks about inclusion, respect, and honoring one another's unique talents,
The Invisible Boy
(Trudy Ludwig, author, Patrice Barton, illustrator) is just the ticket! I love this book! Brian is a boy who feels invisible - a feeling that many of us, myself included, can relate to (at least at one time or another). He spends most of his time as an observer, drawing comics in his ubiquitous notebook. And then Justin joins their class....
Activities to accompany The Invisible Boy:
*
Collaborative Discussion
and
Teaching Poster Presentations
- Have small groups conduct collaborative discussions about one of the topics presented in this book:
Is it fair that some kids get the most attention for behaving inappropriately?
How might we make somebody feel invisible?
At one point, the main character "sits there wondering which is worse - being laughed at or feeling invisible." Which one is worse? Why?
Each group could take a different topic. To culminate the discussion and share out with the larger group, teams can create a teaching poster which they then share with the whole class.
*
Comic Strip
- Provide students with a 3-frame comic strip template and instruct them to illustrate a time when somebody else has either made them feel invisible, or helped them to feel important. The strip should have a BEGINNING (what it was like before the pivotal moment), a MIDDLE (the pivotal moment - what happened), and an END (what was it like after the pivotal moment). To introduce the activity, I like to create an anchor chart of examples with the whole class, and post it for reference to help students who might have a harder time thinking up topics.


Crickwing
I must admit that reading a story with a cockroach as main character was not something I was eager to do... and then I read
Crickwing
(Janell Cannon). The first thing I noticed was that this delightful book reads like the folktales that we cover in our Third Grade curriculum - bonus! The second thing I noticed was that the author's word choice is rich and precise, making this a wonderful mentor text when teaching writing - another bonus! But the third thing I noticed is what makes it a perfect addition to today's list of books that teach community building: Crickwing's multi-dimensional character provides a springboard to talk about bullying. Why is Crickwing a bully? Does he want to be a bully? In discussing these important questions, our classroom community can figure out ways to discover, nurture, and support the BEST in each other. By the way, students might notice that Janell Cannon is the author-illustrator of other favorites, like
Stellaluna
and
Verdi
.
Activities to accompany Crickwing:
*
Compare Crickwing to Self
- Using a Venn Diagram or a Double Bubble Map, the student will compare him- or herself to Crickwing. As I introduce the activity, I create a sample comparing myself to Crickwing, modeling my thinking as I go along.
*
Character Development Chart
- Using a timeline or arc, discuss as a class what some of the significant moments are in Crickwing's personal growth. Students can spin off into pairs to create more detailed, illustrated charts.
*
Pair Text with Nonfiction Information
- This story lends itself to lots of nonfiction comparisons. The author provides nonfiction information about cockroaches and ants in notes included in the book. Another interesting area to research would be food artistry; I'm especially fond of bento lunches; and students will love how cute and creative they are, especially if you are able to share some of the how-to videos that are available.
Of course, there are tons more books out there - chapter books, too! - that are wonderful ways to introduce and reinforce community building in the classroom. I hope that this little trio provided you with ideas that you can use with your learners!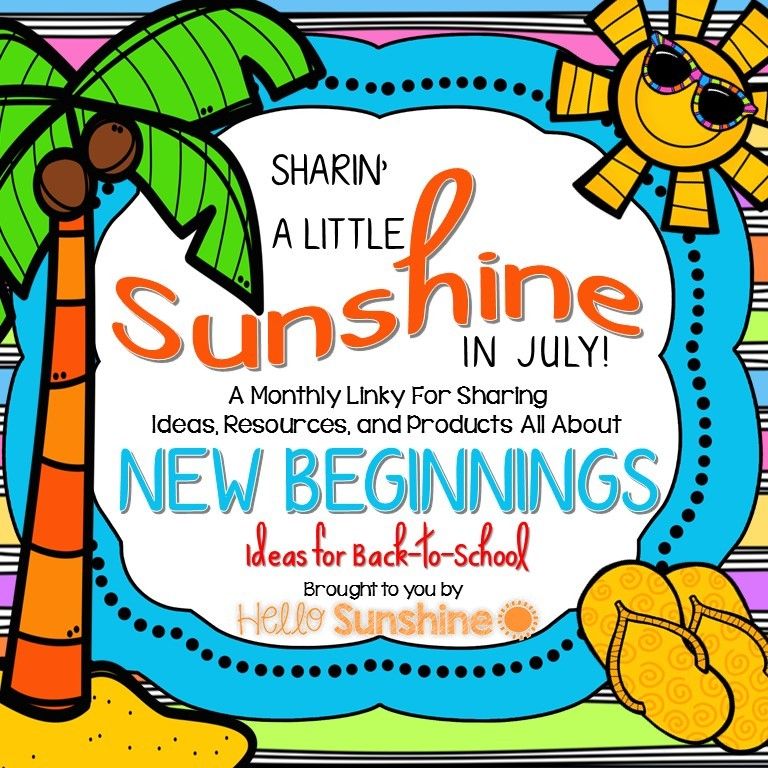 Follow Hello's board Hello Sunshine - Back-to-School on Pinterest.